The Most Desired Woman in Hollywood: Everything You Need to Know About Angelina Jolie
Angelina Jolie is one of the most popular Hollywood actresses and a recipient of prestigious awards such as the Oscar and the Golden Globe. For years, she has been named the most beautiful woman in the world, serving as an inspiration due to her irresistible beauty and outstanding acting abilities. Directors strive to have her in their films, men go crazy for her, and women from all over the world try to emulate her. Angelina has endured a challenging journey to become a true star, with her life filled with unexpected twists and turns, from which Jolie always emerged as the victor.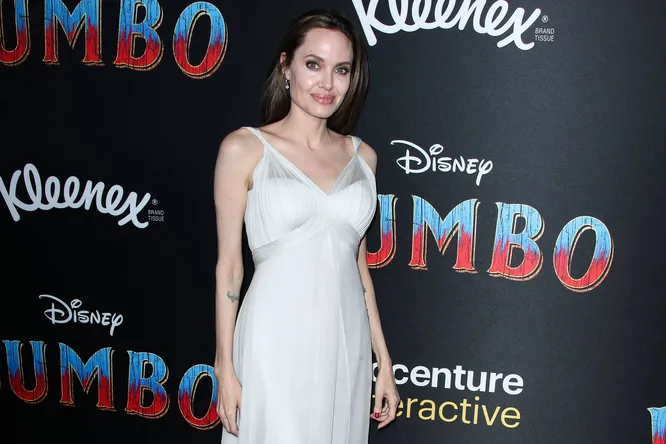 10 Facts from Angelina Jolie's Life
Angelina Jolie has been a UN Goodwill Ambassador for several years.
Jolie's second name is her middle name. She dropped her last name, Voight, in her youth after her parents' divorce.
As a teenager, Angelina frequently suffered from suicidal thoughts. She battled depression for a long time and sometimes self-harmed by cutting herself with knives. According to her, these actions allowed her to "feel alive."
In her youth, Angelina Jolie was even willing to pay a hitman to end her life, but she managed to overcome her depression.
While her childhood and youth weren't overly difficult, health problems led Angelina to become familiar with various drugs available at the time, such as LSD, cocaine, heroin, and ecstasy, by the age of fourteen.
Angelina has been married three times. For her first wedding, she wore black leather pants and a white T-shirt with her groom's name written in her own blood. To celebrate her second marriage, Angelina Jolie and her husband got matching tattoos.
Tattoos hold significant meaning in Angelina Jolie's life. She has the coordinates of each of her children's birthplaces inked on her left shoulder, and a Sanskrit prayer covers a substantial portion of her back.
Jolie prefers not to work through intermediaries. She manages her own affairs, acting as her own manager and agent.
The name "Brangelina" emerged purely by chance. The directors of the movie "Mr. & Mrs. Smith" originally intended to cast Nicole Kidman as the lead, but she declined due to a busy schedule. As a result, Angelina Jolie and Brad Pitt starred together in the film, which marked the beginning of their whirlwind romance.
Angelina's mother was the main inspiration that led her to choose an acting career.
Biography of Angelina Jolie
It's easy to figure out how old Angelina Jolie is now: the actress was born on June 4, 1975, in Los Angeles to a creative couple of actors. Talent was passed down to her, as they say, from her mother's milk. Marcheline Bertrand was a professional model and actress, while Jon Voight was a popular actor. Angelina credits her striking and unique appearance to her French, Canadian, Dutch, and Slovak roots.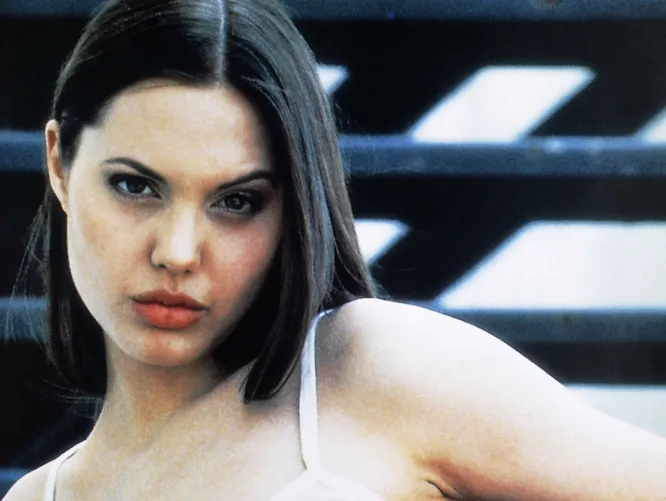 In her youth, Angelina Jolie loved to shock those around her. In her youth, Angelina Jolie loved to shock those around her. Legion-Media A year after giving birth to their daughter, Angelina Jolie's parents divorced. Marcheline, after finalizing the divorce, moved with the children to New York, where Angelina's childhood took place. Jolie admits that during those years, she was very close to her mother and her brother, James Haven. Angelina Jolie's relationship with her brother later caused quite a stir in the press.
At the age of eleven, Angelina returned with her family to her hometown and enrolled in the Lee Strasberg Theatre and Film Institute, where she began to learn acting and develop her talent. There, she caught the attention of producers, and within three years, Angelina Jolie appeared in music videos for Lenny Kravitz and the Rolling Stones, as well as making her first appearance on the catwalk. From the age of sixteen, she started appearing in theatrical productions.
However, due to her unconventional appearance (Angelina Jolie's height is only 5'7" - not tall enough for a model), her slim figure, and the rather peculiar outfits she preferred at the time, the modeling industry didn't embrace her with open arms. Moreover, she was constantly an outcast among her peers. Angelina remembers that time as depressing. Feeling suppressed and lonely, Jolie tried to numb these feelings with drugs and strange rituals - she enjoyed inflicting wounds on herself with knives to "feel alive." Once, as a result of self-harm, Angelina ended up in the hospital: she accidentally hit an artery. Thankfully, she was saved. She was later recommended to seek treatment from a psychiatrist.
At the age of fourteen, Angelina Jolie looked nothing like the beauty admired by the world today - she preferred to wear black clothes and constantly dyed her hair red.
On January 27, 2007, Angelina Jolie's mother, Marcheline Bertrand, passed away. Her health had been severely affected by ovarian cancer, which she had been battling for almost eight years. This event had a significant impact on Angelina - she became frightened by the possibility of developing cancer herself. Several years later, she underwent surgeries to remove her ovaries and breasts as a preventative measure.
"She had depression, suicidal thoughts, and she said she hired a hitman whom she was going to pay 'contributions' for her future murder," as written in the book "Angelina Jolie: The Forbidden Biography." Fortunately, the star managed to overcome her depression, although not immediately. And her creativity played a significant role in helping her overcome it.
Angelina Jolie's Career: Best Films
Angelina Jolie began her film career at the age of seven. That's when she made her first appearance on screen in a small role in "Looking to Get Out." It's unknown how many more times Angelina Jolie would have had to settle for minor roles, but she managed to capture the attention of both the audience and critics with her next appearance. In 1995, Angelina was already being discussed as a promising actress after her impressive performance in the thriller "Hackers," which garnered an article in The New York Times.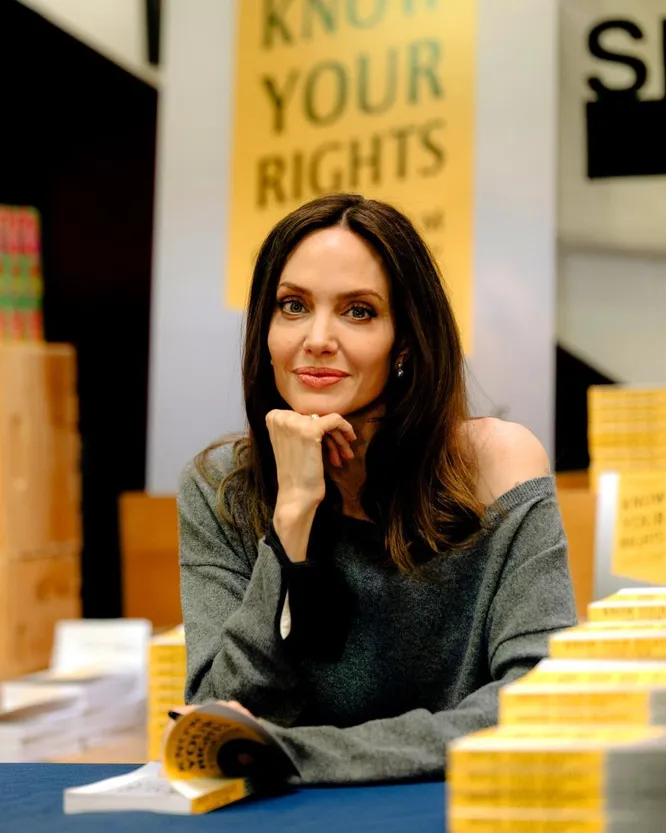 Angelina Jolie gained recognition not only for her beauty but also for her talent. Angelina Jolie gained recognition not only for her beauty but also for her talent. Social Media Two years after her success, Jolie shone in another equally outstanding film, "Playing God," alongside actors Timothy Hutton and David Duchovny. Shortly after, in 1997, she landed the role in the biographical drama "Gia," which earned Angelina an Oscar and a Golden Globe. By the beginning of the 21st century, she was already a Hollywood star, and Angelina Jolie had the right to pursue leading roles in films.
In 1998, Angelina Jolie reappeared on screen, portraying the young model Gia Carangi. She had initially been hesitant to take on the role, as she found the character too similar to herself. Her dramatic performance earned her a Golden Globe.
The year 2001 was successful for her. She appeared in the film "Original Sin," where her partner was Antonio Banderas, and then landed the role of the main character in the adventure film "Lara Croft: Tomb Raider," which appealed to audiences worldwide who enjoyed watching Angelina Jolie's performance. The film's sequel earned Angelina almost fifteen million dollars, helping her become one of the highest-paid actresses of her time.
However, despite Angelina Jolie's fame and influence in Hollywood, she was still waiting for a resounding success that would not only bring her universal recognition and fans' love but also introduce her to her future spouse. The year 2005 was a turning point - in the action film "Mr. & Mrs. Smith," Angelina Jolie starred alongside Brad Pitt, who later became her husband for a decade.
From 2007, Angelina Jolie began to explore her skills as a director. In that year, her first documentary film "A Place in Time" was released, followed by "In the Land of Blood and Honey" and "Unbroken."
Angelina Jolie returned to the role of a secret agent in 2010. The film "Salt" was released and garnered favor with the audience and critics. Interestingly, the screenplay was originally written for Tom Cruise, who could have played the leading male role - Agent Salt. However, at the last moment, the director made a significant change and switched the gender of the main character.
Another Golden Globe nomination came to Angelina Jolie for her role in the film "The Tourist." Critics highly praised her performance, describing Angelina as "alluring and luxurious, exuding sensuality." Angelina Jolie and Johnny Depp, who starred in the film, attracted significant public attention.
For a long time, Angelina focused on her personal life and her children, occasionally producing her own projects. However, in 2014, she made a remarkable and unforgettable comeback to the screen. One of her most prominent films was "Maleficent," where Angelina Jolie portrayed the enchanting villainess-witch. This film became her highest-grossing project of her career.
In 2015, the film "By the Sea" was released, in which Angelina Jolie and Brad Pitt played the main characters and also served as screenwriters. The project didn't receive favorable reviews from critics, but the scenes with Angelina Jolie and Pitt attracted audiences who enjoyed watching their favorite couple.
In the spring of 2019, rumors circulated in the press that Jolie planned to quit acting and leave Los Angeles. According to journalists, this decision was influenced by the lengthy divorce process with Pitt and Angelina Jolie's desire to devote herself to raising her children. However, in the fall of 2019, the sequel to "Maleficent" was released, indicating that Jolie had no intention of stopping at her achievements.
Among the best films with Angelina Jolie that are definitely worth watching, critics also include:
"Changeling" (2008)
"Playing by Heart" (1998)
"The Bone Collector" (1999)
"Gone in 60 Seconds" (2000)
"Beyond Borders" (2003)
Angelina Jolie's leading roles are always memorable to the audience, not only due to her stunning appearance but also because of her acting talent.
Angelina Jolie's Personal Life
Jolie is one of those celebrities who does not use social media, so the public learns about Angelina Jolie's news not from her directly but from the press.
Her first husband was Johnny Lee Miller, whom Jolie met on the set of the film "Hackers." Their romance developed rapidly and brightly - they got married in 1996. However, their relationship didn't last long, and the couple divorced just a year later. Angelina attended her first wedding not in a traditional wedding dress but in black leather pants and a light T-shirt with her chosen one's name written in blood. The impulsive nature of their marriage and their youth are considered the reasons for their split.
In the early 2000s, Jolie married actor Billy Bob Thornton, making him her second husband. Fate brought them together on the set of the movie "Pushing Tin." Their relationship attracted much attention in the press and faced public scrutiny. Bloody rituals were also present in their relationship. Jolie gave her husband the best thing she had - a vial of her blood. In return, she received a similar gift from him during their wedding vows exchange. Angie and Billy got matching tattoos but had to cover them up three years after their high-profile breakup.
Jolie often fueled scandalous rumors about her personal life - her possible bisexuality was actively discussed in the press. To this day, the only confirmed relationship of Angelina Jolie is with Jenny Shimizu, her co-star in "Foxfire."
Angelina Jolie's figure has always been known for being extremely thin. Since her teenage years, the actress has struggled with anorexia, and the signs are still visible in her appearance today: at a height of 170 centimeters, she weighs only 47 kilograms. However, this fact does not deter her fans.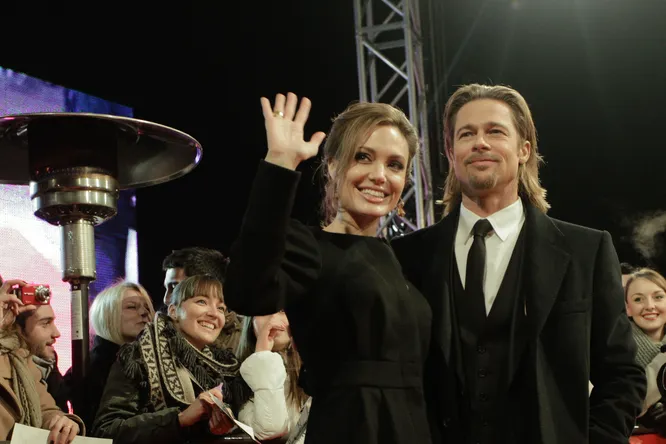 The most talked-about romance of Angelina Jolie, which lasted for just over ten years, is her relationship with her co-star in the film "Mr. & Mrs. Smith" - Brad Pitt. At the time of their acquaintance, both actors were highly paid celebrities with a huge number of fans, which contributed to the commercial success of the film they starred in together. When rumors about Jolie and Pitt's relationship started circulating in the press, Brad was married to Jennifer Aniston, known for her role in the TV series "Friends." The actors did not confirm their relationship, but many blamed Angelina for Pitt's divorce from his lawful wife. Despite the lack of official confirmation, their romance was widely discussed: newspapers and the internet were filled with joint photos of Angelina Jolie and Pitt, or Brangelina, as the couple came to be known.
In the winter of 2006, Jolie officially announced to the press that she was pregnant with Brad Pitt's child, putting an end to speculations surrounding their relationship. For a long time, Angelina and Brad formed one of the most successful and attractive couples in Hollywood. After seven years of being together, the couple announced their long-awaited wedding and officially tied the knot in France in 2014. Angelina Jolie and Brad told journalists that they did it at the request of their children. It was the first time Jolie appeared in a wedding dress - a custom-made gown by Versace.
However, in 2016, news broke that Angelina Jolie had filed for divorce, citing Brad's inappropriate behavior towards the children. Pitt admitted to having problems with alcohol that caused him to lose control. At one point, he almost raised his hand against their eldest adoptive son, leading Jolie to file for divorce. Three years later, the couple's relationship completely fell apart.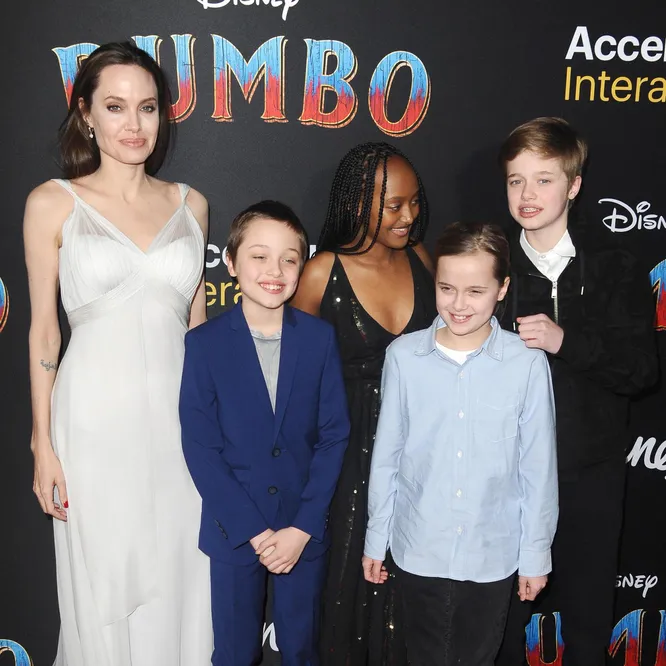 Angelina Jolie has six children. She adopted her first child, Maddox, in 2001 while married to Billy Bob Thornton. After their divorce, Jolie obtained sole custody of the child. Maddox was born in Cambodia while Angelina was filming the movie "Beyond Borders."
Zahara, the second child and first daughter of Angelina Jolie, came into their lives in 2005. Although there was no confirmation of Brad and Angelina's relationship at the time, Pitt filed adoption papers for both Maddox and Zahara.
Shiloh Nouvel, the first biological child of Brangelina, was born in Namibia, where no journalist could reach Angelina and Brad to get sensational photos and information. Several months after Shiloh's birth, Pitt and Jolie decided to sell their daughter's pictures to "People" and "Hello!" magazines for an astonishing sum of ten million dollars. This made the photographs of their newborn child the most expensive celebrity pictures ever. In 2014, a scandal erupted around Shiloh when journalists and fans of Jolie and Pitt actively discussed the child's gender identity. The girl identified herself as transgender and had chosen the name John.
In 2007, Angelina and Brad adopted another boy, Pax Thien. Insiders claim that the name Pax, meaning "peace" in Latin, was chosen by Marcheline Bertrand for the child before her death.
In 2008, in Nice, twins Knox Leon and Vivienne Marcheline were born. The photos of the twins were also sold for a significant sum of fourteen million dollars, and the proceeds were donated to charity to support the reconstruction of New Orleans after Hurricane Katrina.
Angelina Jolie's Humanitarian Work
While filming the movie "Lara Croft: Tomb Raider" in Cambodia, Angelina Jolie witnessed the dire conditions in third-world countries firsthand. She reached out to the UN Refugee Agency to gather information and started making significant donations to refugees. Jolie personally funded all her trips to third-world countries and lived in the same conditions as the commission's staff members. On August 27, 2001, the actress became a Goodwill Ambassador for the UN High Commissioner for Refugees.
In the following years, Angelina Jolie actively participated in the commission's activities, gaining influence and being taken seriously by politicians. She delivered a speech at the World Economic Forum in Davos, attended major political meetings, and established several charitable organizations. As part of her missions, she visited numerous countries, including Ukraine in 2022. At the end of 2022, the actress stepped down from her role as a Goodwill Ambassador.
Quotes by Angelina Jolie
Rarely do people expect any profound wisdom from a beautiful actress, but Angelina Jolie's quotes show that she is not just a beauty but also an interesting person.
"I don't think about beauty. When I wake up in the morning, I want to be a smarter person. That's my goal."
"Make bold decisions and make mistakes. That's what will make you the person you're meant to be."
"Love is when you wish the best for the people you love. Love is when you prioritize their interests and well-being above your own. Always."
"You need to understand who you are without your family, without your husband or wife. You need to realize who you are in this world and what you need to feel good in solitude. I believe that's the most important thing in life. When you know who you are without anyone else, you can do anything."
"Life means nothing if you don't do anything useful for others."
"It took me a long time to feel like I could be useful to someone because for a long time, I felt abnormal, crazy, and like people should stay away from me. If you had asked me when I was a teenager if I could become someone's mother, be useful to the UN, or write a book, I would have firmly said no."
Angelina Jolie Today
In 2022, a film about Angelina Jolie was released in Russia, where the creators attempted to explore how a former drug addict and scandalous figure transformed into not just an ideal mother and ambassador for the UN, but also a defender of the oppressed and marginalized. For those who have heard about Angelina's tumultuous youth, such a transformation can indeed seem strange, but people change, and former rebels have often become respected members of society. This is exactly what happened with Angelina. The scandals are in the past: the actress's restrained demeanor would do honor to any queen.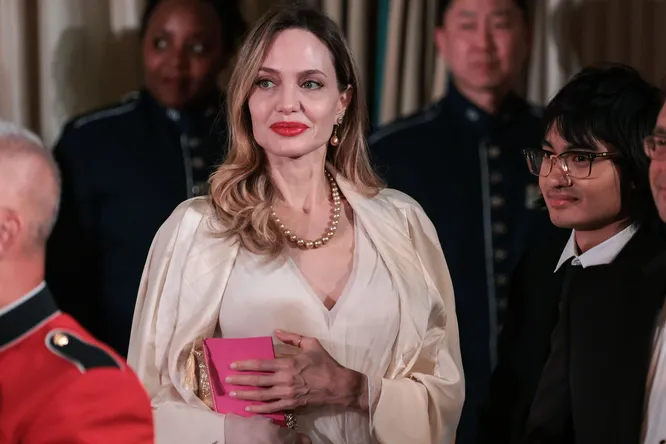 From a young rebel, Angelina Jolie has evolved into a woman of regal dignity. From a young rebel, Angelina Jolie has evolved into a woman of regal dignity. Legion-Media In 2023, Angelina Jolie continues to work. She recently returned to the role of director: in 2020, she and Tom Hardy announced the film "Unjust Behavior" about Don McCullin, a legend in war journalism. Tom Hardy is not only a producer but also the lead actor, and it is currently unknown whether Jolie will appear on screen in the film.
However, the actress will definitely play the lead role in a film tentatively titled "Maude v Maude." Angelina Jolie will serve as a producer for the film, and her on-screen partner will be Halle Berry. Alongside Tom Hardy and Angelina Jolie's film, this production has already generated excitement among the actress's fans before its release.
In March 2023, the actress applied for the registration of her own brand. Angelina Jolie plans to release clothing and jewelry under her name. It's a brilliant idea: it's unlikely that there is a single person who doesn't know about Angelina Jolie, and her name deserves to become a brand.
In her personal life, the star is doing well too. In 2023, photos of Angelina Jolie with a companion, [Name redacted] de Rothschild, appeared in the media. Whether it was a romantic date or not is unknown, but the paparazzi are hopeful of capturing a video of Angelina Jolie and her partner, which would be a sensation. The actress herself claims to feel good in solitude and is not ready for romances. According to Angelina, she has become very selective in choosing suitors and is not planning to tie her fate to anyone. It seems that the actress finally feels calm, confident, and even happy.
Jolie also keeps up with the social scene. In late April, she attended a formal lunch at the White House, accompanied by her eldest son, Maddox. Jolie's children regularly appear in the public eye. For example, the public has shown great interest in observing the transformations of Angelina Jolie's daughter, Shiloh. Towards the end of last year, there was much discussion about her short haircut.
Filmography of Angelina Jolie
2020 "The Eternals"
2019 "Maleficent: Mistress of Evil"
2016 "Kung Fu Panda 3"
2015 "By the Sea"
2015 "Salt 2"
2015 "By the Sea"
2014 "Maleficent"
2014 "Maleficent"
2011 "The Tourist"
2011 "Kung Fu Panda 2"
2010 "Salt"
2009 "The Changeling"
2008 "Wanted"
2008 "Kung Fu Panda"
2007 "A Mighty Heart"
2007 "Beowulf"
2006 "The Good Shepherd"
2005 "Sky Captain and the World of Tomorrow"
2005 "Mr. & Mrs. Smith"
2004 "Sky Captain and the World of Tomorrow"
2004 "The Fever"
2004 "Taking Lives"
2004 "Alexander"
2003 "Lara Croft Tomb Raider: The Cradle of Life"
2003 "Beyond Borders"
2002 "Life or Something Like It"
2001 "Original Sin"
2001 "Lara Croft: Tomb Raider"
2000 "Gone in Sixty Seconds"
2000 "Girl, Interrupted"
2000 "The Bone Collector"
1999 "Playing by Heart"
1998 "Gia"
1998 "Hell's Kitchen"
1997 "True Women"
1997 "Playing God"
1997 "George Wallace"
1996 "Mojave Moon"
1996 "Foxfire"
1996 "Love Is All There Is"
1995 "Hackers"
1995 "Without Evidence"
1993 "Cyborg 2: Glass Shadow"
1993 "Angela & Viril"
1982 "Lookin' to Get Out"